CD-проигрыватель Destiny 2 от Creek
Важная деталь: питается плеер от одиннадцати раздельных стабилизаторов напряжения, выпрямитель построен на малошумящих диодах Шоттки.
Счастливая судьба сложилась у компакт-диска — некоторые его преемники оказались на задворках общественного признания, а он уже более четверти века вдохновляет конструкторов. И даже те, кому удалось создать действительно удачные аппараты, снискавшие признание публики, продолжают стремиться к совершенству.
С тех пор как в свет вышел первый CD-проигрыватель Destiny, команда разработчиков британской компании Creek ушла далеко вперед в постижении секретов схемотехники, появились новые электронные компоненты и технологии оптимизации звука, — всё это позволило в совокупности создать новую модель Destiny 2.
Корпус из экструдированного алюминия с фронтальной панелью толщиной 10 мм не только подчёркивает высокий класс аппарата, но и обладает прекрасными виброзащитными свойствами. CD-транспорт был специально разработан для этой модели, его лазерный читающий блок выполнен по индивидуальному заказу. Дешифратор и сервопривод построены на новом чипсете NXP и смонтированы непосредственно под лазерной головкой, что обеспечивает кратчайший путь сигнала.
ЦАП — Cirrus Logic CS4396 с высокоточным тактовым генератором, позволяющим устранить джиттер. В сигнальных цепях используются специально отобранные элементы аудиофильского класса, в частности, полипропиленовые конденсаторы. Выходные каскады собраны на прецизионных операционных усилителях OPA134. Аналоговые, цифровые и управляющие модули выполнены на отдельных платах и эффективно развязны друг от друга.
Сам производитель рекомендует использовать новый плеер с усилителем из той же линейки, Destiny 2. Оптимальное сочетание обеспечивается также с любой моделью из серии Evolution.
В нашей стране новый CD-проигрыватель Creek стоит 67500 руб.
Источник
Destiny 2 CD Player
The Destiny 2 CD Player is Creek's high-end model and represents a significant improvement over the original, highly respected, Destiny model. It uses all the sound optimisation techniques and components collected by Mike Creek and his team of analogue and digital electronics engineers during their many years in the hi-fi industry. It is designed to suit a wide range of amplifiers, but Creek recommends the new Destiny 2 integrated amp as a cosmetic and performance quality match. It can also be used together with any of the Evolution amps and controlled by Creek's new SRC3 system remote control.
During the last few years, the Destiny CD Player established itself as a benchmark in CD sound reproduction. Creek Audio made it clear that their aim was to produce a truly high-end product range and Destiny was created with that in mind. One look at its custom-extruded casework will confirm that it is truly a luxury product. Touching its smooth polished lines will also provide a reassuring sense quality and pride of ownership. The brushed 10mm thick aluminium front panel is available in either silver or black finish. The player has now been upgraded to Destiny 2 and the standard has improved even further. Underneath its 3mm thick aluminium cover lays a wealth of expertise in sound reproduction. Viewed from the outside, there only slight differences between the new mk2 and the original CDP. There is a different vacuum fluorescent display set behind a larger blue window and the standby LED is also now blue, to match the Destiny 2 amplifier and Tuner.
For the technical minded, here is a description of what makes the Destiny 2 CD Player so good:
At the heart of a good CD Player is a high quality transport mechanism. The Destiny 2 now uses a dedicated CD transport mechanism comprising of custom made drawer loader and high quality laser assembly. Soft rubber bushes help to maintain playability under conditions of mechanical vibration. This brings improved playability strength and smoothness to its operation which Creek believes cannot be bettered by CD players at any price.
CD decoder and servo motor control functions are performed by a new NXP Compact Disc chip-set. This is now located on a dedicated circuit board mounted directly under the laser assembly for the shortest possible signal routing. This provides the Destiny 2 with a self-contained CD transport module.
Creek Audio has a long association with Cirrus Logic products and continues to use their Delta-Sigma CS4396 digital-to-analogue-converter, long after it has been superseded by other devices. This decision was made purely on the basis of sound quality, since with its 24bit 192kHz reading capability, the CS4396 far exceeds the resolution of the 16bit 44.1kHz CD format. Re-clocking circuitry is used to eliminate jitter, or timing errors, from corrupting the performance of the Destiny 2 player.
A total of 11 voltage regulated, low-noise, power supplies are used in the Destiny 2 player. All rectifier diodes used in the power supply are Schottky-Barrier types, for low noise, which do not require RF snubbing capacitors. All other power supply decoupling capacitors are audio grade low-impedance 105 degree Centigrade types. Audio signal path passive components are selected for sonic purity, such as high-stability MELF type resistors and film and polypropylene type capacitors.
DAC performance has been enhanced by careful attention to PCB layout. The Destiny CD player uses a modular, low phase noise (5pS) and temperature controlled, master clock oscillator. It also uses separate, instrument grade, OPA134 Op-Amps in the audio output to buffer each channel and the filtering of unwanted digital artefacts is improved. The op-amps in the output are also powered separately from their own low noise voltage regulators. Un-balanced audio output RCA sockets are high quality, solid metal and gold plated. Digital SPDIF output is by co-axial RCA and optical TOSLINK sockets.
To maintain the isolation between digital and analogue supplies, Creek has designed a truly stunning mains power supply for the Destiny, with all components mounted on a thick double sided plated-through-hole PCB. Three separate fully encapsulated PCB mounted toroidal mains transformers are used to completely separate digital and analogue supplies. A multi-element, common mode mains filter is used to prevent interference to, or from, the Destiny power supply. The mains IEC plug with built-in double fuse holder is mounted on the power supply PCB together with the double pole mains switch. A voltage selector switch is accessible from under the case for multiple country operation. All the power supplies are separately connected to the mother and display boards for improved serviceability.
A brief history of CD…
From its European introduction in 1983, CD audio has undergone few fundamental revisions. CD audio is still a 16 bit 44.1 kHz digital replay system. There have been several attempts to kill CD off by introducing compatible and non-compatible high-definition reply systems, such as SACD and DVDA, but they have never really reached market acceptance with consumers. Good old CD has won the day as a music storage medium, due to its high quality-to-cost ratio.
Various attempts have been made by manufactures to increase the performance of the Red Book (audio CD standard) CD player, such as sample rate conversion, but the basic system has always remained the same. Some recording publishers have introduced non Red Book standard discs that have confused the market and have often made CD Player manufacturer's work more difficult, because software revisions are often required to updated or make older CD Players playable. These hurdles have to be overcome before a new CD player is launched and the Destiny 2 CD Player is no exception.
Источник
Destiny 2 Integrated Amplifier
The Destiny 2 integrated amplifier is Creek's high-end model and represents a significant improvement over the original, highly respected, Destiny model. It uses all the sound optimisation techniques and components collected by Mike Creek and his team of analogue electronics engineers during their many years in the Hi-Fi industry.
This stylish amplifier is housed in an extruded aluminium case with fine brushed finish. It is available with either silver or black front panel and polished aluminium buttons, control knob and feet. It is designed to match the Destiny 2 CD player and FM/AM tuner.
For the technically minded, here is an explanation of what makes the new Destiny 2 integrated amplifier so good:
Importantly, the Destiny 2 uses an evolution of the unique MOS-FET power output circuit, originally invented by Alex Nikitin when he worked for Creek Audio, which has now been in continuous use in many of Creek's high-end amplifiers since 1993. Further developed recently to take advantage of newly available power transistors, linearity and noise performance has been improved. In addition, its efficiency has been improved in a cunning way to boost its power output by 20% without increasing the size of the power supply. This clever circuit continues to outperform alternatives as it has a very flat distortion characteristic and produces very tube-like sound. Loudspeaker connection is controlled locally and by remote control by 2 x 8 Amp gold contact relays.
The Destiny 2 power supply continues to use a magnetically shielded 300VA toroidal transformer with separate windings for high and low current analogue circuit requirements. 2 separate low-loss Schottky diode bridge rectifiers are used to separate the main left and right channel power supplies. In a technique used to reduce the inductance and resistance of high value capacitors, Creek use a total of 10, relatively small, low impedance high temperature 2200uF capacitors paralleled together, in each channel, to provide a total reservoir of 44,000uF to achieve maximum channel isolation and excellent dynamics. A separate power supply feeds all low voltage circuits on the power amp and pre-amp. A 50VA auxiliary toroidal mains transformer powers the microcontroller management circuitry when in standby and all the digital circuitry, including relays, when fully powered which completely isolates the digital and analogue circuitry for best sonic performance. Using this technique, standby power consumption is also less than 1W to conform to European regulations.
The Destiny 2 has 4 unbalanced pre-amp inputs – Aux/Phono, CD, Tuner, Aux 2, plus a tape loop and AV Direct – to the power amp, selectable from the front panel by solid metal push buttons or from the remote handset. The amp also has a Pre-amp output and Tape output. Connection is via gold plated high-quality RCA connectors, selected by gold contact relays and indicated by blue LEDs on the front panel. The AV Direct input separates the pre-amp and power amplifier and passes the signal directly to the power amp, without the volume control in circuit. This is especially useful if the amp is used in both a combined 5.1 front channel and hi-fi system with one pair of speakers. The front panel also offers selectable active or passive pre-amp options with 3 gain settings in active mode, adjustable with a 3-way slider switch, located on the bottom of the case.
To maintain its purist principles the Destiny 2's volume level is adjusted locally and by remote control by a 20k Ohm motorized ALPS Blue Velvet potentiometer. Therefore, the audio signal travels directly to the power amp from the input socket and selector relay via the volume control and nothing else gets in the way to degrade the distortion or noise. This is the essence of a passive pre-amp. To maintain the pre-amp's isolation from outside influences, the tape circuitry is fully buffered. If pre-amp gain is required, the Destiny is able to introduce three levels of pre-amplification, by selecting the active option from the front panel or remote control.
The Destiny 2 amp can be fitted with the new Sequel Phono plug-in board. This plugs into the pre-amp circuit board and is available in 2 settings – low and high MM. To maintain low noise performance for MC applications Creek recommends either the standalone OBH-15mk2 or Wyndsor Phono pre-amplifier.
Most types of dynamic headphones can be connected to the standard size 1/4″ jack socket on the front panel for high performance reproduction. Loudspeaker connections are available for 2 pairs of speakers. 8 extremely strong, touch-proof binding posts are bolted to the rear panel and are selected either from the front panel buttons or remote control.
The Destiny 2 uses precision protection circuitry that monitors current, temperature and DC offset. If any condition is exceeded a fault signal is sent to the microcontroller which will immediately disconnect the output or mute the input signal until the error has been removed. Blue LEDs on the front panel indicate the error condition. If the level is too high, it will automatically reduce the volume setting before reconnecting the input signal.
Источник
Creek Destiny review
Creek has improved the build quality of its latest CD player, and it's a smooth performer, but we'd like more excitement and attack Tested at £1400.00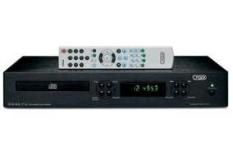 Our Verdict
If you're familiar with Creek, you'll have a good idea of what this Destiny sounds like; much to admire, but plays it a little safe sonically
Against
What Hi-Fi? Verdict
If you're familiar with Creek, you'll have a good idea of what this Destiny sounds like; much to admire, but plays it a little safe sonically
We feel like we're banging on, but the build and design of this CD player is worthy of recognition. We've been critical of Creek's efforts in this department in the past, so we're happy to report it's upped its game.
The casing is more substantial than previous efforts, while the tray, buttons and display are of the standard we'd expect for the money — unlike some rivals.
The Destiny builds on the standard set by the CD50 Mk2, a four-star, £850 player that's a good few years old now — but predictably looks to offer a real step-up in quality for the extra outlay. It retains, however, many of its sonic qualities, which is no bad thing.
Sweet as honey
Most obviously, it's a very smooth, balanced delivery. Listening to Daft Punk's Make Love, the normally calm, gentle, electric piano chords sound positively soporific, so rounded and relaxed is the Creek's take on proceedings.
Switching to REM's latest, surprisingly noisy, outing and there's never much danger of the sound hardening up or becoming abrasive. The flipside is that there is a lack of attack and drive, and for all the flow and fluidity of the Destiny's fine timing, we find ourselves craving some excitement.
Looking for thrills
It's more of the same when we change styles, with Kanye West's Stronger merrily highlighting the agility, pace and precision of the Creek's delivery.
The bottom end is pert and powerful, while the treble is clear and communicative and packs in plenty of character and emotion — but there's a distinct lack of thrill. This means we're less inclined to listen on, in spite of the Creek's otherwise effective performance.
So, while it's clear plenty has changed on the outside, with a reassuring solidity to the external workmanship, the inside remains distinctly Creek.
There's an admirable neutrality to the tonal balance, agility with fast action and that overall smoothness, but it's at the expense of a little vitality and drive. While we like knowing the Creek will never set our teeth on edge, we'd like it more if it took the odd extra risk.
Источник